Reelae has partnered with Flexible Open Distance Education (FODE) to revolutionise the education landscape in Papua New Guinea with its School and Learning Management System – a hybrid
enterprise software solution.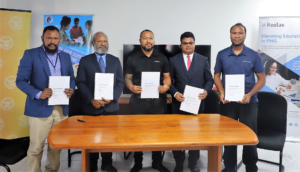 In a momentous partnership agreement signed last Friday (18th November, 2022), Reelae will be piloting the School and Learning Management System across all FODE schools in PNG. The signing
was witnessed by representatives of Reelae, FODE, Department of Information & Communications Technology (DICT), Department of Education (DoE) and SNS Tech.
The School and Learning Management System is an enterprise level cloud solution that is deployed with dedicated resources to allow large learning institutions to manage, track and store all aspects of their operations and learning activities. It is the ultimate tool that will enhance experience, management and collect meaningful data.
With this technology, FODE will be able to run its school operations and manage all aspects of learning – all securely accessible through a web browser. This allows the education institution to have full control of managing all its administration and operational functions including student registration
and individual student assessments.
Reelae's School and Learning Management System is a gamechanger because of its features integrating school management system and a learning management system into one platform, making it a hybrid technology solution for education institutions in PNG and the world. In today's education environment, it is important for a learning institution to understand the benefits of a system that can manage learning and operations that come with running the organisations.
"The day has come to make learning in PNG aligned with our curriculum accessible on any device any time anywhere, with a local solution."
"Our local software company Reelae is a global school and learning management system that is suitable for schools, universities, vocational institutions and individual tutors."
"The significance of this lies with the alignment of DICT's Digital Government Plan. We are now ready to contribute to the e-Education piece for PNG using the FODE pilot as a starting point. And we will work collaboratively with the DICT team and our partners to use technology to transform the educational landscape for our people. We are also looking forward to working closely with the Department of Education."
With its current standing of over 60,000 registered students in PNG, FODE aims to "harness all appropriate and affordable technologies" to pursue quality education, as declared in its mission
statement.
FODE Principal, Anthony Rayappan expressed his excitement and gratitude for the collaboration between all parties involved.
"It's really the need of the day – we are seeing the traditional way of learning is also now going away but technology is attracting more kids."
The partnership between the two parties is supported by Department of Information & Communications Technology (DICT) as well as technology company, SNS Tech.
Representing DICT at the MoU signing was Executive Manager for Digital Governance and Shared Services Mr. Robertson Asari commended the Department of Education, as well as FODE and Reelae
for partnering to drive the Digital Transformation agenda in PNG.
"Last week we [DICT] were talking about the digital government agenda, and we stated that it's very important that as we look at the digitization process in the government we should also work closely with our stakeholders. The essence of this event is to support that – the government needs the private sector. We have to expedite the journey because the world has gone ahead and we're catching up."
"I give credit to the Department of Education and FODE for working closely with a local partner, Reelae. Samson (Reelae Founder & CEO) has done a really good job as a local company to really drive this agenda and the Department of ICT is in full support of that. We want more of that. We want Papua New Guineans to rise up and those who cannot go into the system should try to solve the problem by becoming entrepreneurs and drive the business."
Reelae is excited about the rollout of the School and Learning Management System – a first of its kind in PNG – and anticipates working with FODE to enhance the management of the institution and learning aspects.
The implementation of the system will begin at the end of this month – November 2022.
SOURCE: Reelae Media Release
Reelae is a Software as a Service platform which allows educators to facilitate and promote collaborative learning. Reelae is an easy-to-use, single platform for ALL your online learning needs and can be accessed anywhere, anytime – on any device.