Today's signing of this Memorandum of Agreement (MoA) between the National Information and Communications Technology Authority (NICTA) and the National Department of Education (DoE) signifies the commencement of a partnership between these two statutory authorities in rolling out Flexible Open Distance Education (FODE) services using online platform to six (6) pilot project sites in the country. More FODE centers will be added after the pilot project.
This MoA comes about as a result of an earlier successful trial run by DoE on the web-based School and Learning Management System (SLMS) between March and May of this year in Port Moresby.
From this result, the DoE has now reached out to NICTA through its Universal Access and Service (UAS) Scheme which exists to promote long term socio-economic development in Papua New Guinea. In consultation with NICTA (UAS) this MoA has come about extending this service throughout the country.
The pilot project will be trialed in six (6) locations targeting 3700 students at an estimated cost of K600 000 for a period of two (2) years. Centres to be trialed include; National Capital District Head Office (Central) NCD Head Office (NCD), Daru, Lae, Goroka and Tari Town.
This project will be jointly funded by the Universal Access Fund which is administered by the UAS Scheme and DoE.
Through this Agreement, NICTA will be responsible for content digitalization, broadband connectivity, training and smart devices while DoE will be responsible for Information Technology (IT) audit, infrastructure, power, skill staff, administration, security and sustainability plan of the project.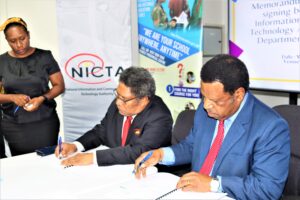 With the Government's motto of leaving no one behind, the Department of Education (DoE) through its FODE has been providing second chance to many drop-outs in the form of upgrades and standard curriculum using FODE.
This project is significant as it will provide access to thousands of students who cannot have access to formal education due to limited space, low grade point average (GPA) or work commitment.
This will now pave way for a more efficient, cost-effective mechanism in contrast to the traditional method of delivering FODE materials through hard copies of papers in large volumes to all centers through the country.
SOURCE: National Information and Communications Technology Authority (NICTA) Media Release
The National Information and Communications Technology Authority (NICTA) is a government agency responsible for the regulation and licensing of Information Communications Technology (ICT) in Papua New Guinea.